Reducing Polarization in Business
December 12, 2022
Posted by:

Philip Struble

Category:

Uncategorized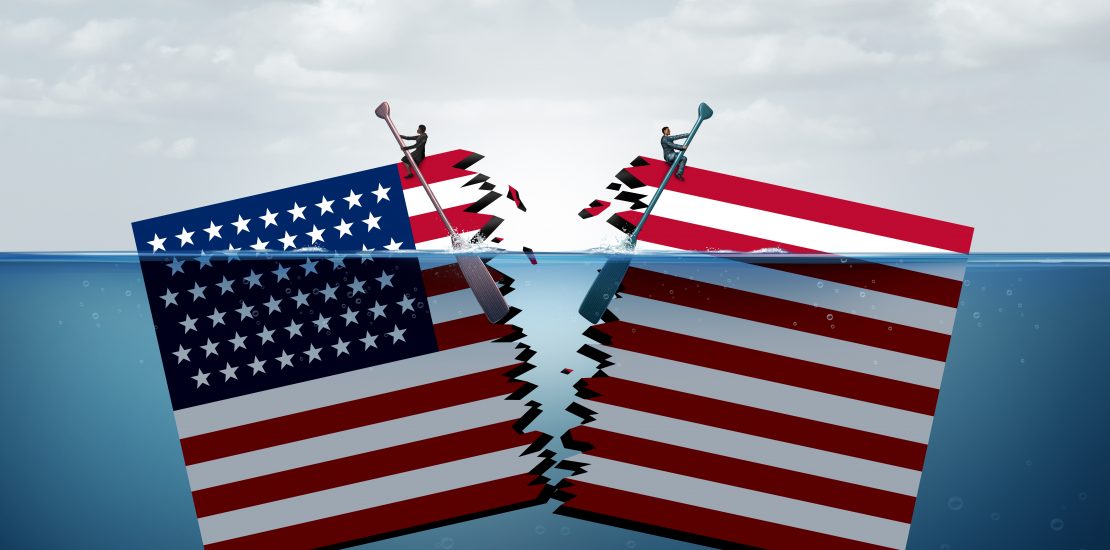 From the extreme political polarization that is everywhere – there's so much suffering going on – so many people are really thirsty to feel good about something.
Polarization
We have all seen that the rising political polarization has severe ramifications for businesses.
Companies that speak out on controversial issues can face decreased customer loyalty from those with opposing beliefs, increased internal conflict between employees, or reduced sales from boycotts.  Unfortunately, taking a public stance on current topics exacerbates social tensions both inside and outside our businesses.
Even so, inaction is not necessarily the better strategy.
Polarization can also affect businesses that do not speak out through decreased customer loyalty, market unpredictability caused by public misinformation, or foregone opportunities due to fear of a backlash.  Silence can also be perceived as tacit support for one side or the other of an issue.
It's damned if you do, damned if you don't.
Navigating the Polarization Waters
Instead of focusing on the false binary of simply taking a public stance or staying silent, CEOs would be better off understanding and addressing the context of rising polarization and doing so in a strategic manner. 
First, get your own house in order.  Before engaging in public debates, leaders should ensure that they have addressed polarization within their organizations.  Not only will this help avoid accusations of hypocrisy, but it will also create a stronger foundation for external influence.
This is done by:
Know thyself: Listen to your employees to better understand their backgrounds, interests, and values — especially across different cultural and geographical groups.
Adopt a consistent stance: Explicitly outline your company's philosophy regarding engagement on social issues, and ensure that it is consistent with previously established company policies, values, and purpose.
Create common ground: Make intergroup contact a core organizational value by building shared identities around apolitical interests.
Engage the hidden majority: Ensure that people with moderate or unexpressed views feel comfortable within the organization's position.
Second, influence your ecosystem.
Business leaders and entrepreneurs can have a degree of direct influence over the behavior of customers, suppliers, and other stakeholders within their external business ecosystem.  Through these relationships, leaders can broaden their influence and impact, especially on issues of common interest.
This is done by,
Communicate a clear purpose: A company's purpose is the bridge between its internal aspirations and capabilities and its external impact, including its ability to address polarization.
Ensure respectful interactions: Fighting misinformation is not enough to reduce polarization if the tone of public communication is hostile.
Invest in new solutions: Leaders can combat polarization by investing in new platforms, tools, or concepts that directly address the context of rising polarization, both within and beyond the corporation.
Finally, inspire broader impact.
The public's rising trust in business — and declining trust in public institutions — means that business leaders can use their public standing to facilitate broader social change.
Individual leaders should maximize their credibility and influence by focusing on a few specific areas of interest and expertise consistent with their own companies' beliefs and actions and supported by others in their ecosystems.  Furthermore, leaders will have more ability to shape emerging issues than those already highly polarized.
The Bible
People of all faith commitments — and none — have recognized the tremendous and overall positive role that the Bible has played in American history and its value for introducing morals and ethics into society.
With these biblical roots propelling us forward, this is an opportunity for all Jesus-followers to fulfill our duty to live out the truths of the Bible — summarized not least in Matthew 22:35–40 as loving God and loving our neighbors — letting our light shine so others may see it and be drawn to our Father.
"Jesus replied, "'You must love the Lord your God with all your heart, all your soul, and all your mind.' This is the first and greatest commandment. A second is equally important: 'Love your neighbor as yourself.'"
We as a country are facing ongoing national challenges that are serving as converging pressure points.  And the polarization is getting worse.
The love of Jesus Christ and the message of the Word of God are the only two consistent historical narratives that dispel polarization. 
Starting with God's message as a foundation and then gently venturing into the territory of our differences is the only pathway to reconciling with each other and replacing polarization with unity.